One of the most important factors to consider when developing a communication datalink range is the ability to provide sufficient signal strength out to the intended operational range of the platform. Modern radios provide a starting point for this effort as they provide options such as programmable bandwidths, RF power settings and modulation based on the application. Output powers of up to 2 watts provided by these radios offer a great foundation for transmissions over short distances, but as either the range or data rates increase, the effectiveness of this output begins to degrade and may even result in the loss of the datalink.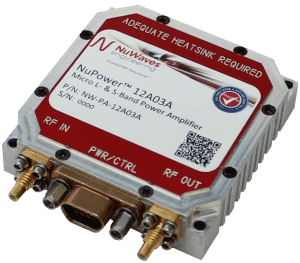 Figure 1: NuWaves NuPowertm Micro L & S Band Power Amplifier
If the application requires either increased range or data rates, the designer is left with two options. One is to improve the performance of the antenna through the use of exotic antenna designs. Unfortunately, many applications are limited to simpler omni-directional systems out of a need to meet operational requirements such as flight envelopes. The second option is to utilize an RF power amplifier. Amplifiers can provide increased data throughput and range, both with and without the use of specialized antennas. Augmenting the transceiver through the integration of an amplifier allows the designer to overcome the impact of such things as free space propagation path loss, insufficient antenna gain, and when paired with a LNA can result in increased receiver sensitivity. Every 6 dB increase in SNR results in the doubling of the effective range of datalink, meaning that an amplifier that can combine high power output, small size, and electrical efficiency can be an ideal solution for applications such as man or vehicle portable communications links and Un-Manned Aerial Systems.
NuWaves Engineering has developed a wide variety of off-the-shelf RF amplifiers with rich features to support mission-critical CONOPS in telemetry, ISR, and tactical communication systems applications to handle all of your datalink range needs. Frequency ranges are available from UHF through C-band with output power levels ranging from 5 to 100 WAll NuPowerTM PAs and NuPower XtenderTM BDAs are designed, built and tested in-house under NuWaves' Quality Management System (QMS) certified to AS9100:2009 and ISO 9001-2008 standards, which ensures that each product arrives on-time and defect-free. Most models are in-stock, and are available for same-day shipment on orders placed before 2pm. NuWaves also boasts a full suite of state-of-the-art design and simulation tools, test and measurement equipment, prototyping equipment and a full-scale production facility to provide custom solutions to your specifications. Contact NuWaves today to extend the range of your communications systems and don't forget to check out our RF Amplifiers and Frequency Converters. – by Ryan Foster Nu Waves Engineering